Promotional items can create impact for marketing and promotions that can't be matched by paper brochures or other literature. Many items make unique promotional mailings, giveaways and handouts to promote your product, brand, image, or
PU highly grippy material with more grip during enforcement of playing. Long
lasting cross lamination with sura liquid to give more bounce and strongness.

Hand Stitched, rubber laminate material.
Very strong Grip, waterproof surface
message for the best impressions.
Soccer balls,hand balls,volley ball,football,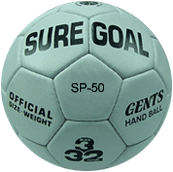 Hand Stitched, rubber laminate material.
Very strong Grip, waterproof surface.
league ball,fusball,balle,soccer club,promo ball, promotion ball,merchandize,soccer,gear