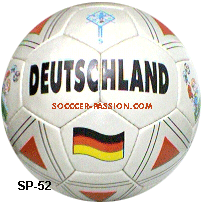 Feel free to drop us a note if you have any questions about soccer ball order. info@soccer-passion.com
Birthday Gift
Looking for a unique fundraising idea ? Our custom made sporting goods such as soccer balls, volleyballs, basketballs and footballs make great products for your next fundraising campaign. Since our products can be customized and be imprinted with your organization or soccer club logo, they appeal more to people supporting your organization.
Christmas Gift
If is pleased to inform you that we can now ship soccer balls with a personalized note to the person you provide on the shipping address.
Graduation Gift
You can now order from our website and will have the option to include a personalized note with your order. The personalized message will be shipped on a greeting card displaying your message to the receiver.
Anniversary Gift
This service is best for people ordering balls and equipment in smaller quantities who do not want any customization on balls and would like to have the products shipped as displayed on our website.personalized soccer balls
Soccer Gift
Our sports balls are great items to give away as Soccer Gift