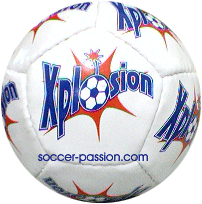 Mini Football / skill balls
mini soccer ball PVC casing
2 ply laminaed fabric soccer ball backing latex socer ball bladder with valve Mini Soccer ball casing material is ideal for solid soccer playing & longevity ideal for recreational play.custom imprinted soccer balls, imprinted soccer ball, mini-soccer ball, mini basket ball, custom soccer balls, party favors,
Material: PVC local - 12 panels
Construction: 2 cotton linning
Bladder: latex Weight: 120 gm
Colors & Design: Black & White - customizable Size: Mini (40 cm circumference)
customized camp soccer mini soccer balls, mini soccerballs, soccerballs, mini soccerball, socerball, mini soccer balls, birthday party, birthday party favors, custom imprinted,



An ideal product to promote your name in the game. Very economical in price, having glossy and kid grain PVC based outer shell. Promotional balls are also available in miniature sizes and custom printing
.
improved softness & new look available in black / white & orange / whitesoccer balls,hand balls,volley ball,football, custom basketball rubber soccerball game soccerball leather soccerball custom soccerball custom soccer balls , skill balls, Custom sports products, brand , Complete Custom Creative Services Custom Balls
Mini Soccer balls for promotions and training are featured in this section. We carry mini soccer balls and regulation size balls made of twelve and thirty two panels. Balls can be printed in your choice of colors with your logo. For ordering and discount information, personalized soccer balls ball,merchandize,soccer,gear sports giveaways, sport birthday parties, weddings, wedding favors, bar mitzvah, bat mitzvah, custom balls